You are Delivering Hope in Response to Crisis
Olga had dreams. She had plans for her future. And she was truly happy, looking forward to what life had to offer. As a young woman growing up in the Ukraine, she had a job and enjoyed time with her friends and family. Everything seemed perfectly normal, until one day, it wasn't.
She remembers distinctly when the bombs started falling from the sky. Olga heard the loud, rushing sound of a fighter jet as it flew overhead. When she peeked out of her living room window, she couldn't believe what she was seeing. After the first bomb was dropped, sirens started blaring, and she knew that something was terribly wrong. In a panic, Olga and her family ran to the basement, huddled together in fear. It was cold and damp, with only one exit, adding to their anxiety. Shivering, with her head buried in her hands, Olga prayed for her family's safety.
After what seemed like an eternity, they emerged from the basement and saw their whole world in shambles – crisis was on their doorstep. Distraught, with nowhere else to go, Olga made the heartbreaking decision to leave her home and start her journey to Moldova.
Churches in Moldova organized quickly, gathering food and supplies to help the refugees, despite fears that Russia would continue their advancement.
Olga and her family were exhausted when they arrived at the church in the middle of the night. They were told, "there is nothing to worry about, it is a nice place, the children will love it." Despite hearing the comforting words, Olga still felt heavy with worry and apprehension. After a few days, Olga witnessed the bright smiles and laughter of her children who were brave enough to step outside again and enjoy the playground at the church. For a moment, she felt a huge weight lift off her shoulders.
As one week turned into months, Olga began settling into her new community. She decided to get involved and build friendships to help pass the time and distract her from homesickness. She felt called to serve in the church's kitchen, preparing food for the rest of the refugees. Cooking was a beloved past time for her, so this was a great way for her to feel at home.
"I began to trust people in a new way"
The Moldovan congregation spend time praying, singing, and enjoy meals together with Olga and other refugees. Olga hopes and prays that one day she can return home, but for now, she is embracing her new life at the ICM church.
When Forced to Flee
How the church helps refugees in crisis
Whether it's war, an attempt to escape a tyrannical government, or a longing to build a better life, oftentimes people find themselves in situations where they are forced to leave their home. Abandoning everything that is familiar. Taking only what they can carry. Setting out on a journey to find peace and solace in another country. Hoping they will be accepted, or at least respected.
When there is a crisis, oftentimes people will flock to churches regardless of their belief or non belief in Christ. In remote villages where a church exists, the church serves more than a place of worship. It becomes the center of the community — a school, a feeding center, a daycare, an addiction therapy center, and so much more. Because of the welcoming presence of the church, refugees can find comfort and opportunities to come to know Christ.
South Sudan
Known for hosting the largest numbers of refugees in Africa, approximately 1 million refugees from Sudan currently call Uganda their home. There is a significant strain on Uganda due to a lack of resources, leading to food shortages, forcing some refugees back to their homes to face dangerous living conditions. To help alleviate the crisis, a clinic was hosted in an ICM church for Sudanese refugees, providing much needed medical care.
Ukraine
February marks the one-year anniversary of the Ukrainian invasion, which triggered a refugee crisis for Ukrainians and the nearby countries of Moldova and Romania. ICM-developed churches and Hope Centers were ready to respond to the crisis.
Myanmar
In Myanmar, the civil unrest has become so severe that some Christians, (including pastors,) have been forced to run away from their homes and churches so they can worship in secret. Thankfully, ICM churches have been able to minister to the Chin people, an ethnic minority that has faced persecution and poverty for years.
FROM THE FIELD: Focus on Discipleship
Resilience and Hope Abound in Poverty-Stricken South Africa
When ICM Logistics Manager Bobby Brown arrived in the township of Diepsloot, South Africa, he was in awe. "To see a community living with so much joy with just the life basics was astonishing," he recalls. Diepsloot is one of the poorest communities in Africa, offering very little to its people. Crime is high and few homes have electricity or running water. Immigrants migrated here from rural areas in search of a better life. Bobby and several ICM team members visited Diepsloot on their way to support ministry partner, Judea Harvest with installing Teaching Towers — solarpowered apparatuses that provide Wifi access for congregations using ICM devices that house Foundations curriculum. Over the next seven days, the team would assist in installing a tower while visiting Hope Centers and meeting pastors along the way. This experience gave them a first-hand look at the overwhelming gratitude and resilience of the people throughout the region.
"Early on in the trip we visited an ICM Hope Center and met many children, mostly orphans. We sang and danced with them. They proudly shared their projects with us and told us about what they were learning in school. The children were so full of life. Their gratitude for the Hope Center was evident in their warm smiles. The time spent with these beautiful children has left an impression on us that will never fade," Bobby remembers.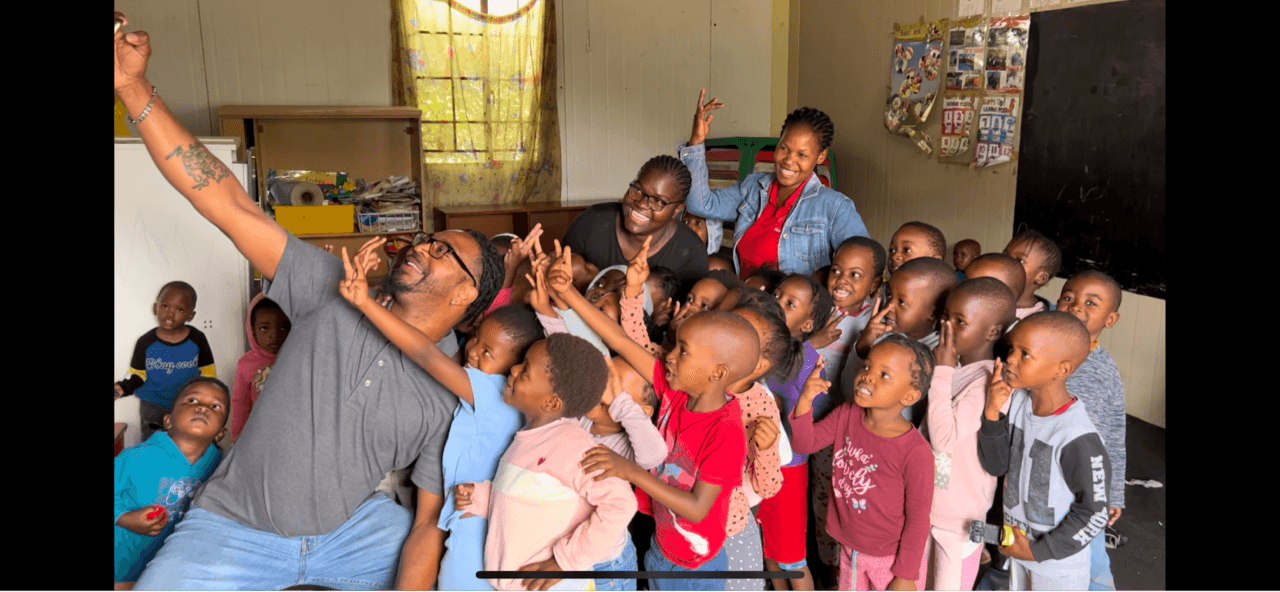 The team also met pastors throughout the week who will train regionally on Foundations, equipping them with the biblical tools they need to educate others on how to spread the Gospel. "There were 17 pastors ready to be trained, and we set it up so they could receive Teaching Towers, not just for their churches but for their regions. The overall goal was to have a training team spread across the region," Bobby explains. "We went into the field to assist with the solar installation of a Teaching Tower (Wi-Fi access point) unit and had to climb on a wobbly tin roof to place solar panels for power and connect it to the panel box installed on the inside of the church. The connection was successful, and the church was able to utilize all the functions immediately. Praise the Lord," he smiles.
That afternoon, after the tower was installed, a group gathered to watch a movie about Jesus and several were saved right then.
By the end of the trip, the ICM team had traveled many miles, gaining a better understanding of the realities of deep impoverishment in parts of Africa, the resiliency of its people, and the power of God's timing.
"I am so grateful to be able to experience what I did. I was inspired to see so much hope in people who have so little. If we hadn't installed the tower that day, who knows when those folks would have had the opportunity for salvation," says Bobby.
There are now over 500 Training Towers across Africa, with plans of continued expansion.
---